Torture as a System -Testimony originally published in February 1946-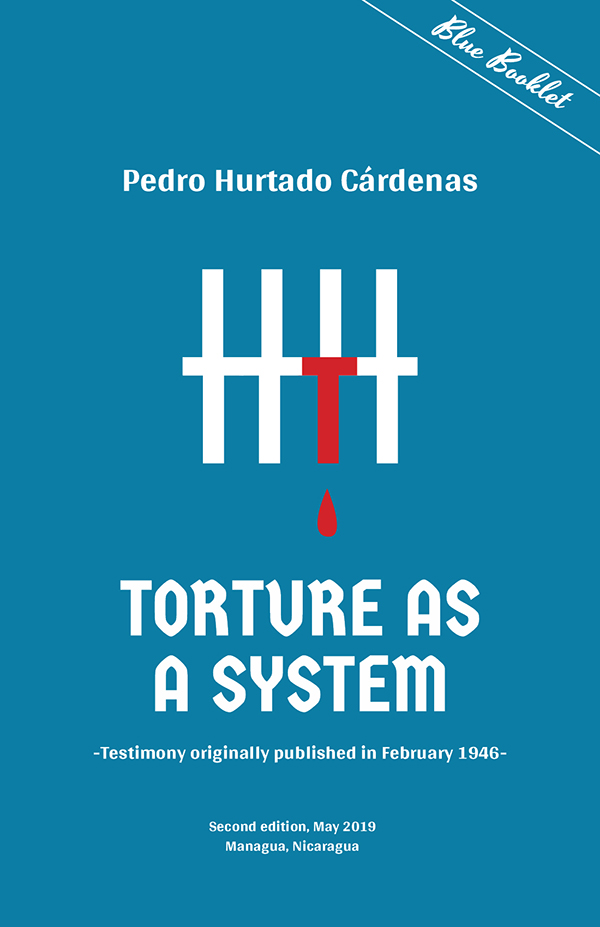 Title: Torture as a System -Testimony originally published in February 1946-
Author: Pedro Hurtado Cárdenas
Place of publication: Managua, Nicaragua
Editor: EDITORIAL ASEL
Year: 2019
Pages: 38
Description:
---
"My dad, Pedro Hurtado Cárdenas (1912-1960), was 28 years old when he became a political prisoner of the regime of Anastasio Somoza García for the first time. He was always a fierce civic opponent of the dictatorship, firmly against any pacts and became a recognized lawyer. In the first months of 1946, my dad published his account of the torture he had endured five years previously under the title Torture as a System - Blue Booklet.
My father was kidnapped on November 27th, 1940, and released four weeks later. During that period of time, countless torture sessions took place….
On June 14th, 1960, twenty years after this tragic story and after at least four more detentions, my father was cruelly assassinated, riddled with bullets, at the age of 48.
This second edition of "Torture as a System" is a tribute to my father and to so many other men and women who have suffered and continue to suffer firsthand from such cruelty unleashed from the circles of powers. It is a testimony of pain aimed at helping to generate a new awareness of the issue, while at the same time stressing the urgent and pressing need to fully respect human dignity".
Pedro Hurtado Vega
May, 2019